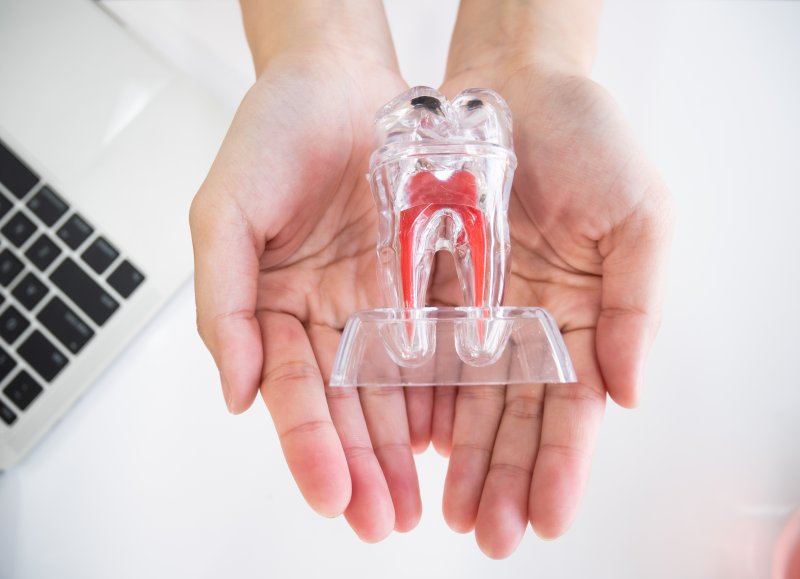 Root canal treatment is one of the scariest-sounding procedures out there. When movies and TV want to make a joke about dentists, they are often portrayed as sellers of pain who delight in the misery of their patients. They usually stand over someone with a comically large drill and declare, "It's time for a root canal!"
Firstly, these notions about dentists enjoying pain are false. Your dentist will do everything in their power to ensure that any procedure that you undertake is free from pain. Secondly, the procedure for a root canal doesn't have to be scary, it can be fascinating! Continue reading to see how a root canal is performed and what to expect after treatment.
Why Do I Need a Root Canal?
Your tooth consists of three layers: the enamel on the outside, the dentin underneath, and the pulp at the center which houses the blood vessel and nerve. Cavities occur when a buildup of bacterial plaque causes the tooth to erode.
If a cavity manages to grow into the pulp of your tooth, it can cause extreme pain and begin to infect your gums and jawbone. This will not only cause more severe pain but could lead to tooth loss or infection in the area surrounding the affected tooth.
A root canal will remove the infected pulp and stop all that from happening.
What Happens During a Root Canal?
The treatment begins with numbing the area around the tooth with a local anesthetic, so you don't feel any pain. In fact, most patients say the procedure doesn't feel any different from getting a filling!
After the numbing, a thin rubber shield called a dam is applied around the tooth to isolate it and keep your mouth clean while the dentist works. Using their small, specialized instruments the dentist will make a tiny hole in the affected tooth to access the chamber where the pulp is.
The dentist will then clean out the tooth with some thin files that scrub the infected pulp from the roots of the tooth.
The area is then sterilized with a cleaning solution before being filled with some gutta-percha—a natural thermoplastic that will seal the roots of your tooth. A layer of dental filler is then put on top to protect the site from damage and debris as it heals.
Is There a Long Recovery Time from Root Canal Treatment?
Not at all. While you may experience some mild pain after the anesthetic wears off, this pain should subside over the course of a few days. During this time, you should avoid eating hard, hot, or cold foods as there may be some sensitivity when you bite down.
If pain persists for more than three days, you should call your dentist for a follow-up appointment.
Root canal treatment gets a bad reputation from the way it's presented in media, and from people who had the procedure performed before the advent of modern anesthetics. Today, the treatment is relatively pain-free. So, if your anxiety was holding you back from getting the treatment you need, rest easy and call your dentist.
About the Practice
At Disability Dental Services, Dr. Frank E. Ford, Dr. Pat Robinson, Dr. H. Whitney Payne Jr., and Dr. Glynn Solomon are here to provide high-quality dentistry to their special needs patients in a friendly and welcoming manner. With additional training in modern dental anesthesia and sedation techniques, the team is well-equipped to provide a safe and anxiety-free environment for dental care. To schedule an appointment for your loved one or learn about other services provided at Disability Dental Services visit the website here or call (972) 296-0101.