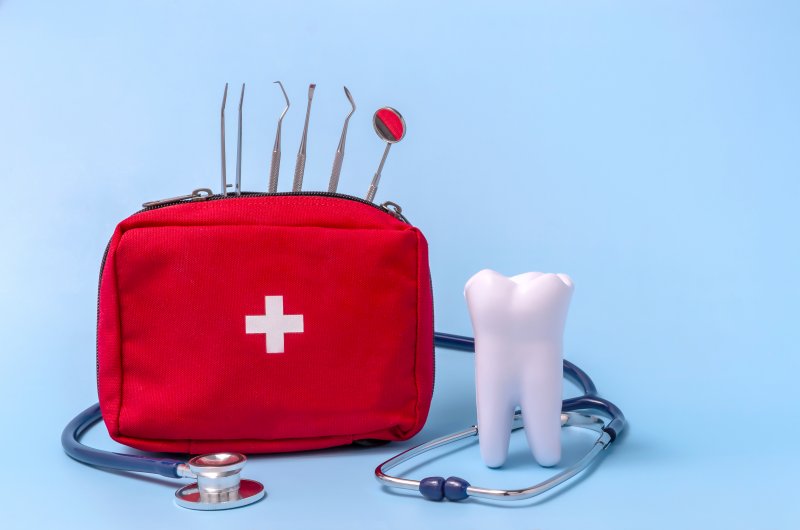 Accidents can happen to anyone, no matter their personal situation. That's simply a plain fact of life. As such, your disabled loved one could face a dental emergency someday. You'd be wise to plan ahead for that possibility. Luckily, your Grand Prairie dentist has a suggestion: make an emergency dental kit for your friend or family member. This tool collection will protect your precious person's smile. As for what to pack in it, here are four crucial items you ought to include.
Pain Relievers
For better or worse, dental emergencies are often painful. The issues they involve – cavities, infections, etc. – aggravate the mouth's nerves. Therefore, add pain relievers to your loved one's emergency kit. These medicines minimize aches during the wait for a dental visit.
Good pain relievers are usually found at your local market or pharmacy. Brands to consider are Tylenol (ibuprofen), Orajel cream, and similar products.
A Dental Mirror
Many dental emergencies happen to be injury-related. Whether simple falls or sports collisions, these types cause chips and cracks in teeth. So, having a dental mirror in an emergency kit is also wise. The item lets you and your loved one see the injury and assess the dental damage.
While some dental mirrors have built-in lights, not all do. If your own doesn't, then, remember to add a flashlight to your kit.
Dental Floss
At times, an urgent oral issue can have mundane beginnings. You'd be surprised at how many stem from something stuck between teeth. Still, the matter could get serious if left untreated. With that said, make dental floss another of the essentials for your emergency dental kit. Floss has long been the best tool for dislodging things stuck between teeth.
Of course, you don't have to include traditional floss. Substitutes like flossers are also acceptable. Even so, ensure the string used is a vetted product – only ADA-approved floss should be used to dislodge stuck food.
Cotton Balls and Gauze
Unfortunately, your loved one's dental emergency may involve bleeding. That's especially likely if the problem is a knocked-out tooth. Since that's the case, ensure the dental kit has plenty of gauze and cotton balls. Biting down on these products reduces the bleeding until more permanent treatment is possible.
Luckily, finding gauze and cotton balls isn't too hard. Chances are that you already have them in a medical first aid kit. To be safe, though, you can always get more from a pharmacy or supermarket.
As you can see, an emergency dental kit will greatly help your disabled loved one. Start making one, then, with the items above!
About the Practice
Disability Dental is based in Grand Prairie, TX. Led by Dr. Frank E. Ford, our office is focused on helping special needs dental patients. As such, we offer preventive, restorative, and sedation services while accounting for physical and intellectual disabilities. Our team even performs emergency dental procedures – root canal therapy, tooth extraction, etc. – when necessary. For more information or to book an appointment, you can reach us on our website or by phone at (972)-296-0101.