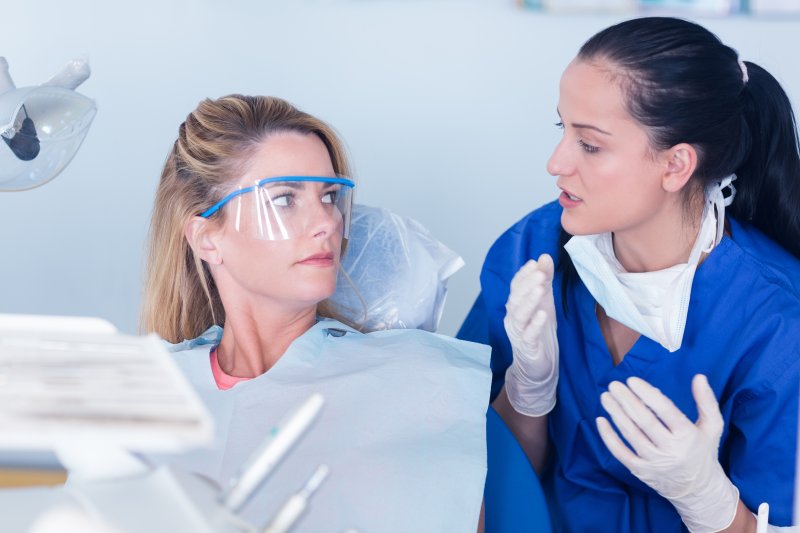 Depression can affect many aspects of your life. Those suffering from depression may have a lot of trouble going to work, school, or social events. They may also struggle with adequately caring for themselves, and this extends to their smiles. Though the impacts of depression on your state of mind is a popular discussion topic, not many people know how it can harm your oral health. Continue reading to learn how mental health impacts your oral health and how you can better care for your smile while getting the help you need.
Depression & Oral Health
Depression often makes people feel less motivated to attend to their health needs, including their smiles. Practicing basic oral health and hygiene can feel like an impossible task, and the same goes for attending regular dental visits. As a result, cavities, gum disease, and other oral health issues are more likely to develop.
The journal Nature Communications performed a 2019 study on this topic and found that there may be a connection between depressive symptoms and the mouth. This means mental health and oral health may have a direct connection.
Other studies have backed this discovery, including one by the University of Washington's dental education program. They found that depression may cause a decrease in one's salivary flow, which can lead to dry mouth and a higher risk of oral health problems.
3 Other Oral Health Risks Associated with Mental Health Issues
While depression can cause patients to not take care of their smiles as well as they should, it isn't the only thing you need to be concerned about. Some other ways that mental health issues impact your oral health include:
Bad oral habits – Those suffering from depression or anxiety are more likely to drink alcohol excessively and smoke cigarettes. These bad oral habits may cause oral health problems, such as dry mouth, gum disease, tooth decay, and oral cancer.
Higher cortisol levels – Depression and anxiety create stress in the body that transforms into a hormone called cortisol. This weakens the immune system, which increases one's risk of inflammation, gum disease, and other oral infections.
Medication issues – Some medications prescribed to treat depression can cause dry mouth, creating an environment that is ideal for harmful oral bacteria.
3 Ways to Fight Depression for a Healthier Beam
Though dentists don't specialize in mental health treatment, they can offer advice on how to better care for your smile while you seek the help you need. Speak with them about what parts of keeping up with your oral hygiene you're struggling with. Some other ways to help protect your smile include:
Get outside – Sunlight provides you with vitamin D, which helps your teeth and bones stay healthy and strong. It can also combat low mood by improving one's brain function.
Make oral hygiene easier – A consistent oral hygiene routine can help lift your spirits and make it easier for you to keep your smile in good condition by slowly incorporating brushing and flossing back into your day.
Get help – Speak with a mental health professional to receive treatment for depression, anxiety, and other mental health issues.
About the Practice
Disability Dental Services aims to help patients with disabilities care for their smiles. They want to ensure that everyone can receive the effective, efficient care they need to avoid oral health problems and feel confident in their beams. Call Disability Dental Services' office at (972) 296-0101 or visit their website if you want to learn more about how mental health impacts your oral health or to set up an appointment with Dr. Frank E. Ford.