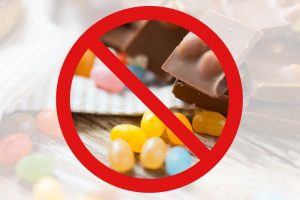 Halloween is just around the corner, and it probably causes mixed feelings for parents. Of course, it's always great to see your child dress up, have fun, and simply enjoy being a kid. On the other hand, all that candy is an easy way to bring on a tummy ache along with cavities, which people with special needs already have an increased risk for. Thankfully, the holiday doesn't have to be all about sweets anymore. Here are three kid-approved candy alternatives you can offer your child that will allow them to celebrate while keeping their smile safe.
1. Movie Night!
Whether your family does movie night at home or in the theater, one thing you can do is ask your child to exchange some of their candy, and in return, they get to pick the movie. We can't promise that they'll choose a good one, but at least you'll save them from some of their sweets—every little bit matters!
2. "Shopping Spree"
Every parent has had the experience of taking their child to the store only for them to see some kind of toy and then completely obsess over it. So, you can have your child trade some of their candy and then take them on a shopping spree. To keep this option easy on your budget, you can bring them to a local dollar store or finally let them grab whatever catches their eye at the grocery store. The items will most likely be cheap, and the change in routine from you just saying, "No," will make this much more exciting for your child compared to the umpteenth candy bar they've eaten.
3. "Special" Snacks
Rather than trying to bribe your child to give up their candy for boring, healthy snacks, you should instead entice them with "special" snacks, as in items that take a little bit of preparation. Think "ants on a log" or something similar that involves some presentation. You'll find endless variations of this treat online for you to try out. Any one will inevitably be easier on their teeth compared to candy, and your child can even get in on the fun of making it.
What Should You Do with All That Candy?
The goal shouldn't be to take all of your child's candy, but rather a large portion of it, and then you can let them have the remaining pieces gradually over the next few weeks or months, saving them from a big intake of sugar. You can simply donate the other candy—many dental offices have candy buyback programs—and it will most likely be given to troops overseas so they can enjoy a little slice of home. Be sure to let your child know this!
Halloween and candy are synonymous, but with a little bit of cleverness, you can help your child have as much fun as their peers, put their own spin on the holiday, and avoid dental problems all at the same time.
About the Author
Dr. Frank E. Ford has almost 50 years of experience in dentistry, with the last 14 of them being spent here at his practice in Grand Prairie! Dr. Ford received his dental doctorate from the University of Texas Dental Branch at Houston and is a member of several professional organizations, including the American Dental Association, the Texas Dental Association, and others. If you have any questions for Dr. Ford or would like to schedule an appointment, please visit his website or give him a call at (972) 296-0101.